The summer started with a nice quiet June; a couple bluegrass gigs, plenty of weddings with Quartessence, and an otherwise quiet month.  I was supposed to get a lot of practicing in.  I had this great plan to spend 3 practice days on each Kreutzer etude to cover some ground and keep myself from obsessing over details.  Then I got a dog: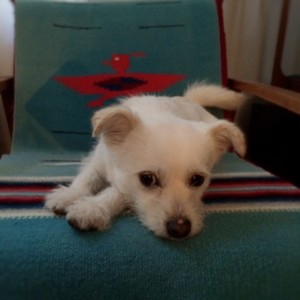 Scout:  Distraction
It's mid-July and I am on Etude 4.
No worries….the huge wave of gigs and adventures-with-viola on the horizon will get me back on track.
Hey Jen, feeling low and musically slow?  No problem.
Kyle Bruckmann wants to fly Wrack out to LA to play W.A.S.T.E at The Hammer Museum August 13.
How about hosting an evening of the Option series at Experimental Sound Studio in Chicago earlier that week, August 10?
And Fred Lonberg-Holm would like you to be a guest performer with Stirrup in Chicago on Tuesday, August 18.
Throw in Opera in the Park back home in Madison July 25, a recording session for Simply Folk on Wisconsin Public Radio with Josh Gabdaw, playing the Agora Art Fair in Fitchburg with Milkhouse Radio August 15 and 5 weddings with Quartessence during that same 3 week period and you've got yourself a summer pick-me-up, or get-your-rear-in-gear kinda month.
I am especially looking forward to the Option show.  I'll be playing pieces based on the theme (borrowed from the title of one of my favorite books) Design Lessons From Nature.  I will be playing Malcolm Goldstein's Jade Mountain Soundings. Also Ornette Coleman's Trinity, written for Goldstein, and named after a river in his hometown.  I will be joined by Anton Hatwich to play an improvisation based on material from Wrack's W.A.S.T.E.  For the second set I will be joined by old friends and collaborators Kevin Peto on bass clarinet and Jonathon Kirk on trombone and electronics.
I am also looking forward to being part of this year's Wisconsin Farm to Table Dinner on September 12.  Milkhouse Radio will be playing and EATING (yes!) out on the farm.
Looking forward to fall as usual, but late summer is looking' good.  Hope to see you at some of the shows. Thanks for checking in.